Cider Apple Research at WARC
WARC has a long history of apple research starting with the founding of the station in 1907. Today, research focuses on identifying bitter apple varieties that can withstand Montana's climate, pests and diseases while producing quality juice for local and regional craft cider makers. Below are descriptions of current cider research at WARC. For more information on growing Montana dessert and cider apples visit our producer resources page.
Bitter Apple Cultivar Trial
In summer 2017, six cultivars of bitter apples were grafted on M26 rootstock at WARC. The cultivars include Dabinett, Marie Menard, Binet Rouge, Major, Chisel Jersey and Muscadett de Dieppe. Once apples have matured to full production, data will be collected on yields, juice quality and overall performance in a Montana orchard system. The experiment design allows for future treatments to be added to the system comparing performance under various weed control, irrigation management and fertility treatments.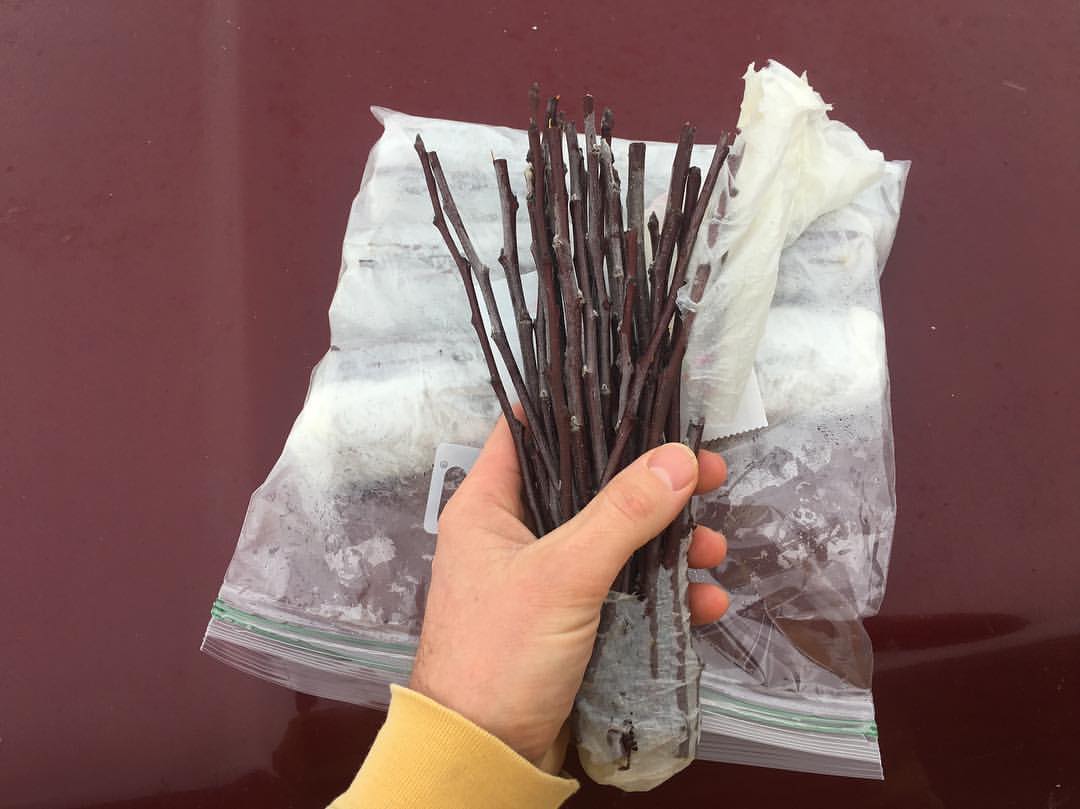 Budwood for grafting bitter apple cultivars on cold hardy rootstock. Photo credit: Michael Billingsley, Western Cider Co.
Cider Apple Cultivar Grower Survey
In addition to cultivar trials at our research station we are currently conducting a grower survey to quantatively assess current cider apple cultivars grown around the Rocky Mountain West. An initial survey has been sent to over 40 growers in MT, ID, WY, CO, east of the Cascades in WA, OR and BC as well as Alberta and Saskatchewan. A post-harvest survey will be distributed in fall 2018 to collect information from growers on the cold hardiness, resistence to fire blight, vigor, yield and phenology of the cider apple cultivars they grow. The information collected as part of this project will be made available to growers and the public to assist them in selecting cider apple cultivars appropriate for the Rockie's cold, dry climate.
If you currently grow cider apples and are interested in participating in this project please contact Katrina Mendrey at katrina.mendrey@montana.edu for more information.
Cider Apple Training System Trial
In spring 2018, WARC will install a trial comparing two training systems for growing cider apples. Trees will be planted in a high-density trellised system using G935 rootstock with trees planted 3-4 ft apart and a free standing system using MM.106 rootstock with trees planted 7-10 ft apart. Cultivars included in this trial are Golden Russet, Harrison and Binet Rouge. The training systems will be compared for production, harvest efficiency, flavor and weed competition.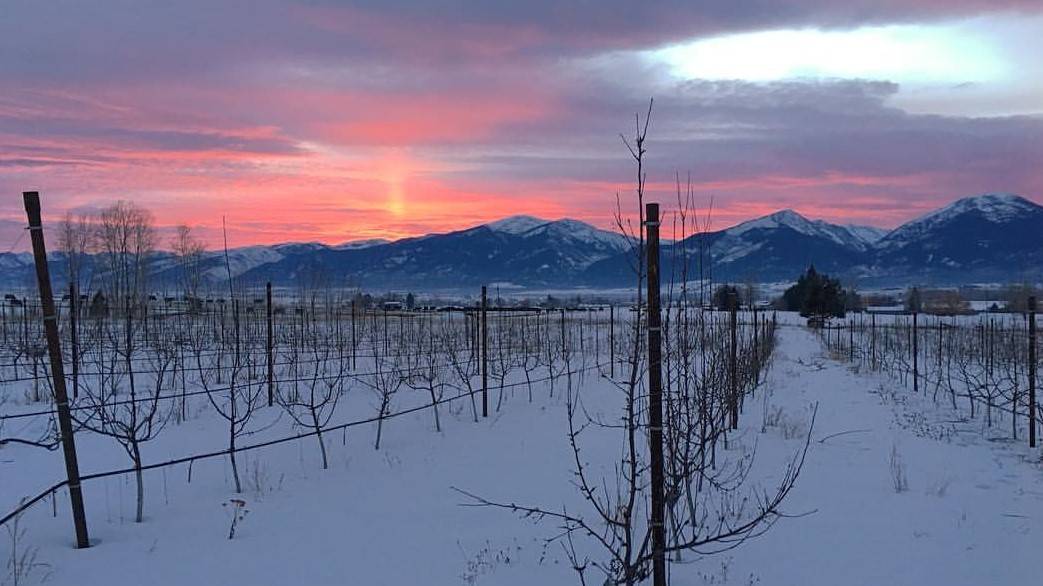 High-density cider apple planting at Billingsley Orchard, Stevensville, MT. Photo credit: Michael Billingsley, Western Cider Co.