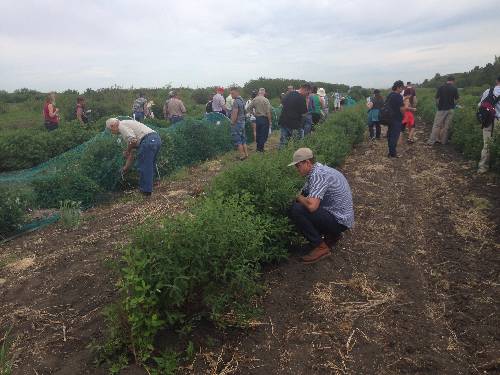 This edible honeysuckle (Lonicera caerulea var. edulis) is an exciting new cold hardy fruit for this region. Also known as Honeyberries, Haskaps have been grown in Japan and Russia for a long time. It is extremely cold hardy (grown to zone 2) and produces early in the season (late June-July). They produce a nutritious and tasty berry that's great fresh or in processed foods. Mature plants are 4-8 ft tall. Plant require outcrossing for good fruit set. Large plantings of one variety require a distantly-related variety or pollenizer (1 pollinator for 5-10 plants). Dr. Bob Bors at the University of Saskatchewan has posted a useful overview of the Haskap Compatibility, flowering and ripening.
In the last decade, considerable varietal development has been done at the University of Saskatchewan (Dr. Bob Bors) and Oregon State University (Dr. Maxine Thomson). More information is available from the fruit program at the University of Saskatchewan and Haskap Canada Association websites.
We are evaluating 16 varieties of haskaps (see table below). In addition to the varieties from the University of Saskatchewan and Oregon State, we are including varieties from Europe and a private breeding program in Arkansas.