Bagging apple fruit for simple codling moth control 2019
This project is supported by a Montana Department of Agriculture Specialty Crop Block Grant.
Codling moth (the "worm in the apple") in Montana
Codling moth is a major insect pest of apple fruit in Montana. In southwestern Montana, Ravalli County Extension Patrick Mangan estimates 50-60 calls per year from non-commercial fruit growers each year with requests for information; approximately 200 people are signed up for the Ravalli County codling moth alert system. Sandy Perrin at Missoula County Extension Plant Clinic receives 45-50 calls, and has both a pest alert hotline as well as an additional 47 people on an email alert system. Katrina Mendrey at MSU-WARC fields an additional 30-50 calls from non-commercial fruit growers, both locally and from other growers around the state. Laurie Kerzicnik at MSU-Bozeman Schutter Diagnostic Lab estimates 5 calls per year. Commercial management for codling moth requires continued attention to predicted codling moth life stages and multiple pesticide applications, so we sought a simpler method suitable for homeowner-scale plantings.
Testing a method for homeowner management of codling moth
This year WARC tested a simple method of codling moth management suitable for small-scale growers or homeowners with several trees – bagging the fruit with the intent of preventing codling moth egg deposition and subsequent larval damage to fruit. Other university extension programs in the United States have published documents indicating this method can successfully reduce codling moth damage to an acceptable level and eliminate the need for sprays.
Summary points
We used sandwich size Ziploc bags that cost 2 cents a piece to bag apple fruit shortly after petal fall, when fruit were thumbnail size. The lower corners of the bags were clipped off to allow moisture to drain out, the top edge above zip was cut off in order to fit more neatly around fruit and stapled on either side of stem.
It took an average of 1 min 33 seconds to thin fruit in each cluster of fruitlets, prepare each bag, and bag the fruit.
At harvest, codling moth strikes affected 12% of bagged fruit, compared to 35% codling moth strike incidence in un-bagged fruit.
Three weeks prior to harvest, 13% of the bagged fruit had earwigs living in them and at harvest, 53% of the bagged fruit had earwig frass in them. While earwigs are not generally expected to damage apple fruit, the frass was unappealing. Earwig frass and populations were not counted for un-bagged fruit, but field observations suggested low incidence. Most earwigs had disappeared by harvest, which may be connected to the freezing temperatures.
Twenty-one percent of the bags either blew off or were lost when fruit dropped prematurely.
Field notes and discussion
Twelve percent of bagged fruit sustained codling moth damage compared to 35% of unbagged fruit. It is not clear when infestation of bagged fruit occurred: it is possible that some eggs laid between bloom and bagging, or potentially that the slight gap between the plastic bag and fruit stem was an entry point.
Although the bags reduced the incidence of codling moth, the presence of earwig frass in 53% of the bags makes this method unappealing. This, combined with initial effort to bag, then to remove the bag with harvest, combined with only partial reduction in codling moth incidence, leads us to seek a superior simple method of codling moth control. We are considering testing commercially available fruit bags and nylons in 2020. Please contact Rachel Leisso (Rachel.Leisso@montana.edu) with any suggestions, or if you are interested in testing fruit bagging in the summer of 2020.
Methods
Bags. Ziploc sandwich size plastic baggies (6.5 in x 5 7/8 in) (16.5 cm x 14.9 cm) were purchased at CostCo ($11.59 for 4 boxes of 145 bags [=0.019 dollars or 2 cents per bag]). The Ziploc bag does not contain Bisphenol-A, and bags are recyclable; see https://how2recycle.info/ for more info and locations.
Bagging the fruit. Seventeen trees in the middle row of the old Cortland apple block at Western Ag were bagged on 06/05/19, when fruit were less than thumbnail size in width (less than 1.5 cm across). Exterior trees on either end of the row were not included. Fruit were thinned to a single fruitlet per cluster for six clusters per tree and bagged. No ladders were needed to bag fruit. Bagging time was recorded and averaged 1 minute 33 secs per fruit among the three people bagging fruit.
Orchard management. Exterior rows in the Cortland block followed general commercial recommendations to control codling moth, but the middle row where bagged fruit were remained untreated.
Fruit harvest. Fruit were harvested on 10/02/19 following several nights of below-freezing temperatures, with the lowest at 23 degrees F on the night of 10/01/19. The last starch-iodine test performed before frost on 09/25/19 indicated fruit averaged 2 out of 8 on the Cornell Starch-Iodine apple maturity scale. The number of bags remaining on each tree was counted, and the presence of codling moth strikes and earwig frass recorded. Following harvest of the bagged fruit, the remaining number of apples on each tree were counted and the number of fruit with codling moth strikes recorded.
Pictures
Thinned cluster and bagged fruitlet.
Earwigs in the stem bowl of a fruit and a codling moth exit hole on the side of a fruit at harvest.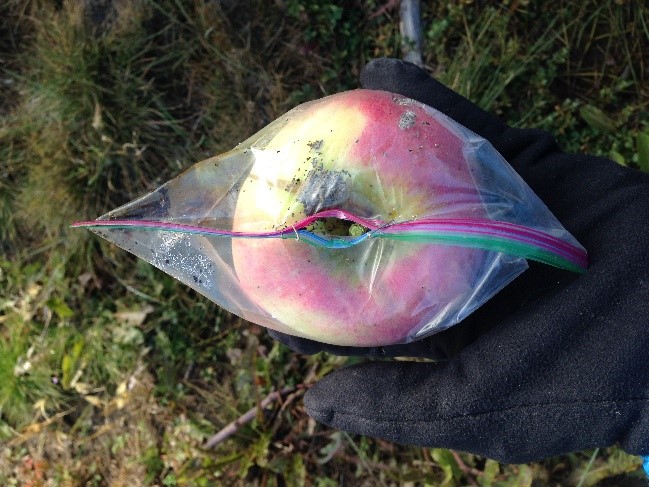 Earwig frass in stem bowl at harvest.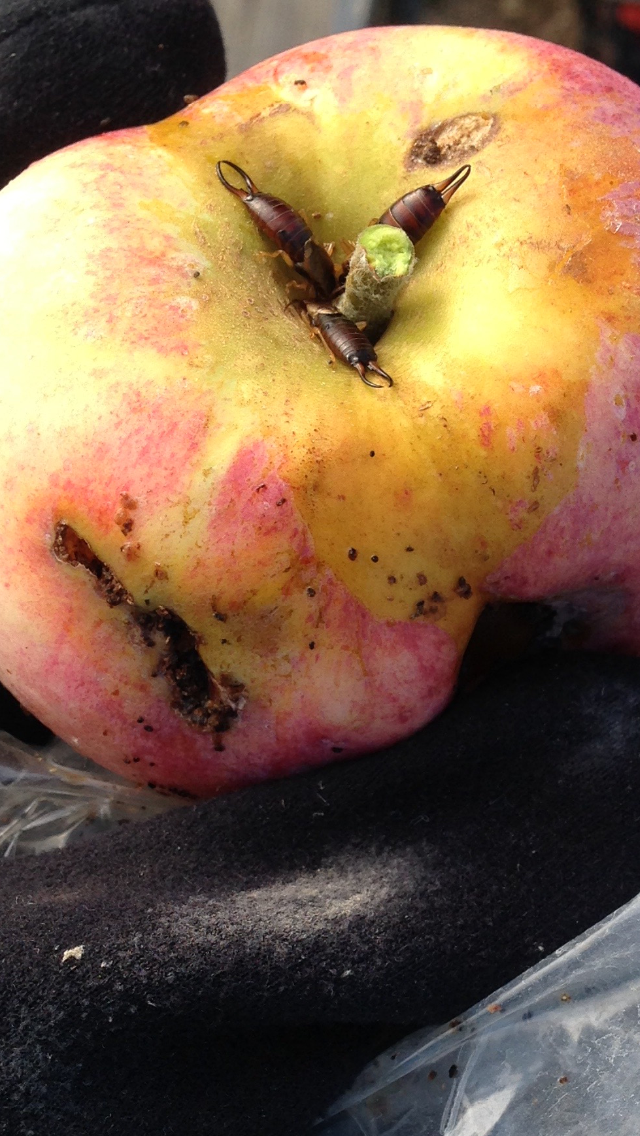 Disclaimer. The mention of specific products used in this project does not imply endorsement by MSU.
This project is supported by a Montana Department of Agriculture Specialty Crop Block Grant.