Fort Assinniboine1879-1911
"Assini boise" from the Objiway (Chippeewa) tribes, meaning: stone cookers/stone boilers
Mission
Fort Assinniboine was built in the aftermath of the Custer disaster at the Little Big Horn. It was established primarily to ward off possible attacks by Sioux Chief Sitting Bull hiding in the Cypress Hills and by the Nez Perce, some of whom were also in Canada following the defeat and capture of Chief Joseph by the army in the Bear Paw Mountains in 1877.
There were some secondary reasons for the structure. Army General William Sherman had envisioned a line of forts near the northern and southern boundaries of the United States. When starving Indians pressed south from Canada pursuing buffalo, cattlemen, miners and other settlers pressured for federal troops to intervene. Control of the large Blackfeet Reservation in northern Montana Territory and protection of trade routes were additional reasons for the fort.
Finally, there were whispers that Maine Senator James G. Blaine was pressing for a strengthened military position in the northern states to advance his dream of acquiring Canada.
Construction
At the time of its construction, Fort Assinniboine was the most elaborate post in the United States. Unlike earlier frontier posts, it was an offensive fortress and had no perimeter wall. The rectangular shaped post eventually boasted 104 mostly brick buildings constructed over a four-year period. L.K. Devlin was selected to undertake construction. The bricks were manufactured on the spot by Colonel C. S. Broadwater. Much of the work on Fort Assinniboine was done by the troops themselves. Construction progressed so rapidly that the Indians said the Fort Assinniboine "rose out of the ground". At its peak, the Fort housed 36 officers and 453 non-commissioned officers and enlisted men.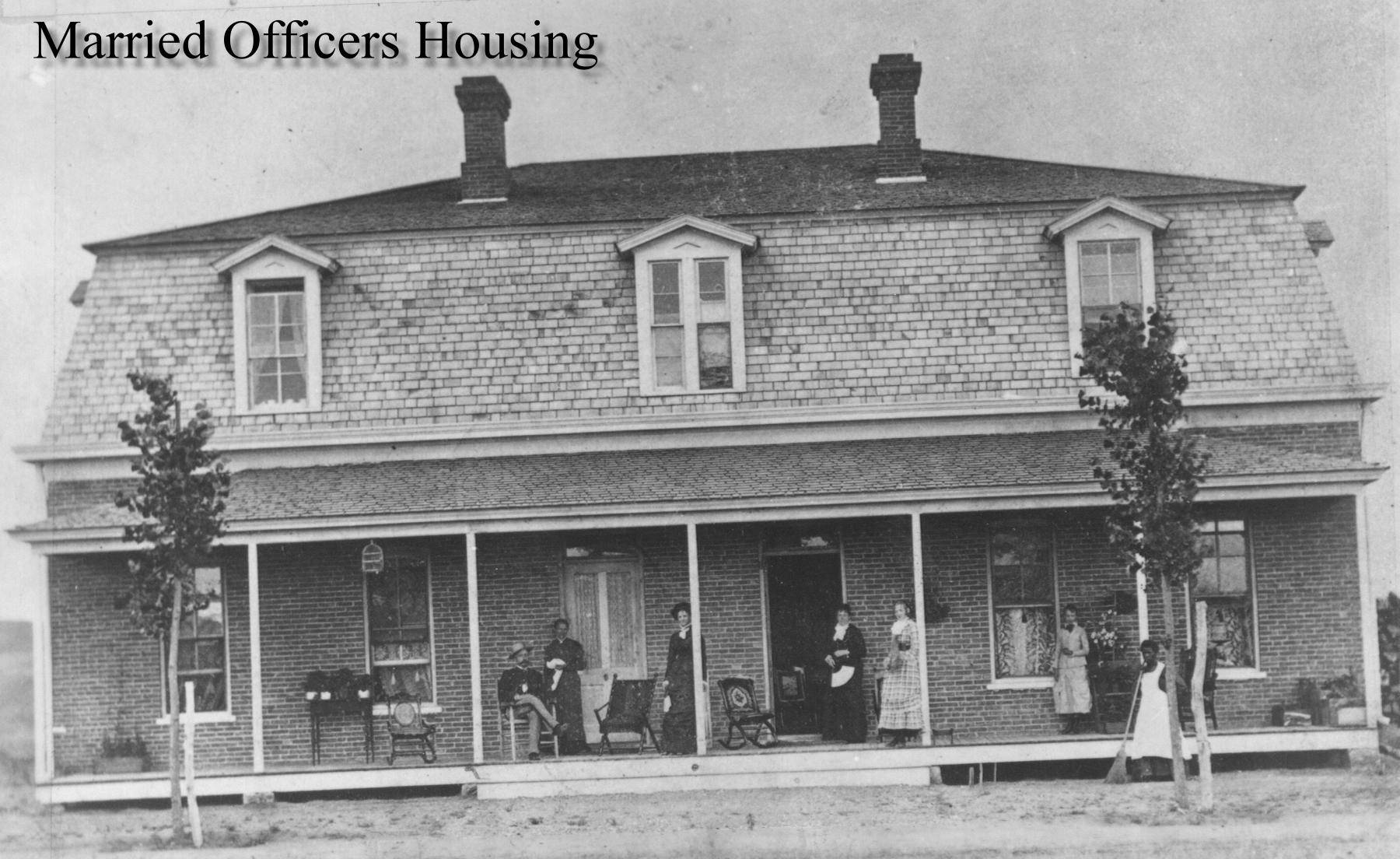 Officer's Quarters, Al Lucke Collection 10th Cavalry "Buffalo Soldiers" on escort duty 1894

Soldiers
The Tenth Cavalry was dubbed the Buffalo soldiers by the Cheyenne Indians. While it has been reported that the name "Buffalo soldiers" was given because of the troopers' curly hair, the Cheyenne respected the fighting abilities of the troopers' and likened their strength and courage to the sacred buffalo. These men were given the worst mounts in all the cavalry, and because of their race, had no chance to become officers. The 24th and 25th Infantry black units were also stationed at Fort Assinniboine. The Fort had a multi-racial force that included Native Americans, and whites, as well as Afro-Americans.
Typical assignments out of Fort Assinniboine were recovering lost mounts, scouting and rounding up renegade Indians, usually Crees, burning their shacks and escorting the starving people to the border. The Milk River Valley had become a battleground between warring border tribes, (Blackfoot nation, Plains Cree and Sioux); Fort Assinniboine troops took an active roll in curtailing these clashes. Additional responsibilities included stopping the liquor trade and gun running into Canada.


Elite cavalry unit leads a drill at the recently completed Fort Assinniboine.

Officers
Several prominent military men served at, or were connected with the Fort, These included generals Ruger, Brooke and Otis. Colonel J.K. Mizner, C.O. of the 10th Calvary, had been a highly decorated American Civil War hero. The most famous officer to serve at the Fort was John J. (Black Jack) Pershing. Pershing, voluntarily arrived in 1896 with the Tenth Cavalry, a black regiment. During his time at Assinniboine, he managed to accomplish two notable things. He impressed visiting dignitary, Major General Nelson Miles, and he laid the foundation for his future nickname "Blackjack."

Col. Mizner (standing Center) with officers of the 10th cavalry and 25th Infantry at Fort Assinniboine, 1897. Lts. Pershing and Hardelman are seated right.

General

John J. (Black Jack) Pershing
Photo courtesy of the Library of Congress
After the failure of the Riel Rebellion in 1885, several hundred Cree Indians led by Little Poplar and Little Bear settled around the Fort. They were given political asylum from their Canadian crimes. They were given food and work cutting wood. When cutting wood was banned for conservation reasons, and other work dried up, Chief Little Bear's tribe scattered.
In 1895 and 1896, the anti-Cree campaign was intensified. The Cree were not recognized as US citizens and were squatters on land given by treaty to the Gros Ventres. Pershing participated in the roundup of several hundred homeless Cree Indians under Chief Little Bear, and escorted them back to a temporary home in Canada. Lieutenant Letcher Hardeman took a detachment to round up Crees near Chinook. Eventually the Cree found a home on the Rocky Boy's Reservation carved out of Fort property in 1916.
After the war against Spain, Fort Assinniboine never regained its military preeminence. The post was abandoned in 1911, the State of Montana turned the site into an agricultural experiment station.
Civilians

The Fort's remote location dictated that it be practically a self-contained town. There were several specialty buildings located on Fort Assinniboine - blacksmithing, wagon wheel making, and saddlery - all operated by civilian employees. Familiar Havre names associated with the Fort include Simon Pepin, who had been wagon master for Colonel Broadwater's Diamond R freighting outfit, and Louie Shambo who acted as scout and dispatch carrier. The Herron family established a dairy just east of the post and William Thackeray delivered mail. L.K. Devlin had the contract for supplying the post with meat. C.A. Broadwater and Co. had the post store.

| | |
| --- | --- |
| | |
| Civilian Employee's Quarters, 1883 | Backery, 1880 |
| | |
| Blacksmith & Tin Shop | Inside Blacksmith Shop |
Tours
Tour Guide on Site: ONLY from June to September each Summer
Monday – Friday 9:00 am to 5:00 pm.
Saturday and Sunday 12:00 Noon to 5:00 pm.
For more information or to schedule a special tour call:
406-265-4383 or 406-265-4000
Directions: 6 Miles South on Highway 87
Acknowledgements
Hardeman, N.P. 1979. Brick Stronghold of the Border: Fort Assinniboine, 1879-1911. Montana The Magazine of Western History, Vol. XXIX, No. 2, April 1979, The Montana Historical Society.
Magera, James. Archives.
Fort Assinniboine Preservation Association.
Photographs: Al Lucke Collection, Montana Historical Society.