Northern Agricultural Research Center
Emi Smith to recieve Distinguished Staff Award. Congratulations!
Physiological Leaf Spots on 'Bobcat' Winter Wheat (General)
Description:
We are receiving many reports of MSU winter wheat variety 'Bobcat' showing foliar leaf spots across the state. The leaf spots are tan to brown in color with yellow halos around them and resemble those associated with tan spot disease or chloride deficiency. Lesion from chloride deficiency tend to have more discrete margins between affected and nonaffected tissue while the margins of fungal lesions tend to be more diffuse. We have observed leaf spot symptoms in Bobcat in previous years, as well, but this year's drought conditions and temperature extremes have likely exacerbated this phenotype.
At the Schutter Diagnostic Lab we have assessed several 'Bobcat' samples for the presence of the tan spot pathogen (Pyrenophora tritici-repentis) or other pathogenic causes. At this point, we have no convincing evidence that the observed spotting is caused by a fungal pathogen. The leaf spots are more likely of physiological nature (physiological leaf spot, PLS), which is often caused by chloride deficiency. If disease is ruled out, then chloride deficiency is suspect. In most winter wheat fields this year, it's likely too late to have a large benefit with a chloride treatment, but if you decide to try, 10-20 lb potash (0 0 60) per acre should be sufficient (5-10 lb Cl/acre) or a similar amount of chloride applied as a liquid (for example calcium chloride or ammonium chloride).
If you observe leaf spot symptoms we encourage you to drop a sample (whole plant) at your local Extension office or submit directly to the Schutter Diagnostic Lab and await diagnosis before applying fungicides (sample submission instructions and forms can be found on the Diagnostic Lab website). If you want to rule out or rule in chloride deficiency, the suggested critical level in plant material (entire plant) is between 0.1 and 0.4%, with large yield increases and leaf spot decreases when chloride was applied at tissue Cl concentrations below 0.1%. Please note that the Schutter Diagnostic Lab does offer tissue analysis or soil testing services.
See https://store.msuextension.org/publications/AgandNaturalResources/NM7.pdf for more information.
Don't hesitate to reach out with any questions or concerns.
Best,
Uta McKelvy
Extension Field Crop Pathologist
406-994-5572
Clain Jones
Extension Soil Fertility Specialist
406-994-6076

Alert Period: 06/16/2021 - 06/16/2022
Submitted By: Uta McKelvy
Congratulations Julia Dafoe on winning the Excellence in Service Award for Reliability!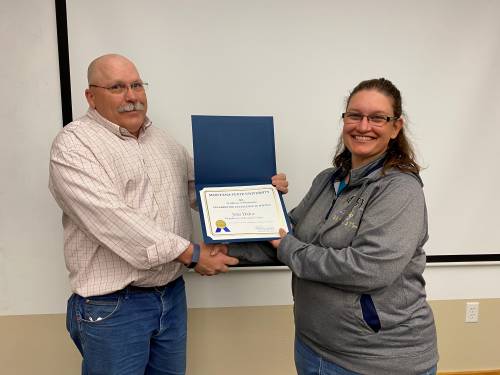 Congratulations Julia Dafoe!
She was nominated for the Excellence in Service Award. Thank you for your hard work and dedication to Northern Ag Research Center.

| | |
| --- | --- |
| | |
G

Welcome

The Northern Agricultural Research Center consists of 3,000 acres at the main facility with an additional 3,960 acres of grazing land located in the nearby Bear Paw Mountains. The 3,000 acres on the main facility supports both crop and livestock research activities which is distinctly unique to MSU. The research center has recently completed $2.8 million of construction and renovation, including a new $2.1 million office/laboratory complex. In the spring of 2014, two center pivots suitable for research were installed. A modern research scale greenhouse was funded and designed with construction to be completed in the near future. The research center, when fully staffed, consists of three faculty, two operations managers, research scientist, master's level technician, and 12 permanent support personnel. A local advisory board made up of area producers and industry representatives from the five surrounding counties, provides guidance on NARC research priorities.

NARC Mission

To conduct and promote studies, scientific investigations and experiments relating to agriculture, natural resources and rural life and to disseminate this information to the people of Montana.

Pulse Committee seeks Proposals

Montana Hemp License Applications Now Available

Clark Appointed As Ag Director