Objective:
To determine the optimal planting population and the agronomic impacts of plant population in wheat
Summary:
Six spring wheat varieties with four planting density combinations were planted in a complete randomized block design with 3 replications. The six varieties were Egan, Expresso, Solano, Soren, Tyra, and Vida. The four target planting population were: 16, 24, 32, and 40 plants/ft2. Each plot was sampled for tiller and plant count. Management information is available in Table 1 and agronomic performance data is shown by population density in Table 2.
Table 1. Management information.

Seeding date:
5/2/2018
Harvest date:
8/30/2018
Julian date:
122
Julian date:
242
Seeding rates:
16, 24, 32, and 40 plants/ft2
Soil type:
Creston silt loam
Previous crop:
pea
Soil Nutrient Residual (lb/A):
123-6-82 (Fall, 2017)
Tillage:
conventional
Nutrient fertilizer applied (lb/A):
40-40-100
Insecticide:
Warrior2
Fungicide:
Headline
All graphed results are shown using actual populations. All traits were significant for varieties, but protein, thousand kernel weight, plant height, biomass at heading, and falling number were not significant between planting densities. Variety and density interaction was insignificant indicating that varieties behaved similarly under various densities.
Yields for planting densities of 24, 32, and 40 were the same as shown in Figure 1A. These three densities achieved the same number of kernels per ft2 (Fig. 1B). Increasing planting density had more number of plants as expected, but the number of productive tillers per plant was also reduced (Fig. 1C). Thus, yields (Fig. 1A) and the resulting income did not improve (Fig. 1D).
Optimum planting density for spring wheat, based on this study with diverse varieties and tillering capacities, is 24 plants/ft2 under well-watered condition. The soil this experiment was planted was with subsurface recharge (abundant soil moisture). Previous year's (2017) result under rainfed and drought conditions, yields recorded were the same for 16, 24, 32, and 40 plants/ft2 seeding -- in which actual live plants were on par with the target population.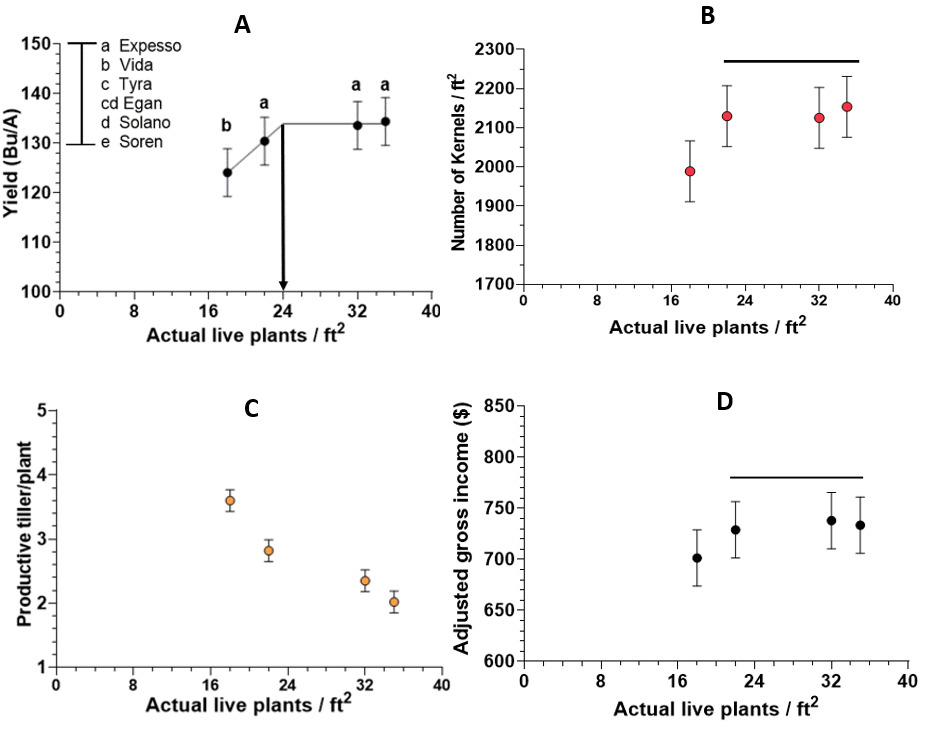 Figure 1
A) Yield, B) number of kernels per ft2, C) productive tiller per plant, and D) adjusted gross income of actual live plants per ft2.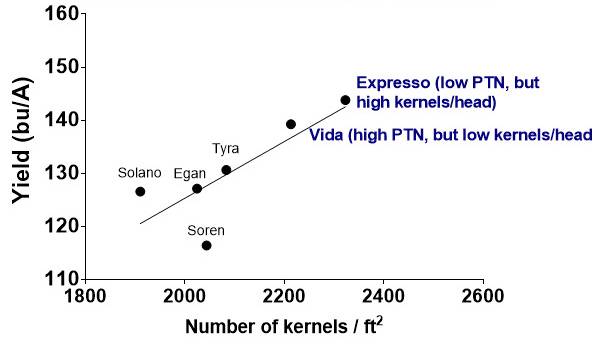 Figure 2
As shown in Figure 2, the tillering capacity of wheat is not a straightforward determinant of yield. The example is Expresso showing low productive tiller number (PTN; Table 2), but produced high yield. Vida on the other hand had high yield even with low number of kernels per head (smaller heads) but it produced high PTN.
Our results indicate that planting more seeds/ft2 because a variety has low tillering capacity, does not guarantee increases in yield and income. The data suggest that under optimal growing condition, 24 plants/ft2 is sufficient (Fig 1A; Table 2).
Table 1: Agronomic performance
Variety
PLNT
HD
HT
No. Kernels
PTN
Biomass
YLD1
PRO2
TWT1
TKW
FN
line
sqft
Julian
in
no./ft2
no./plant
lb/ft2
bu/A
%
lb/bu
g
Seconds
16 plants/ft2
Expresso
19.3
181
34.6
2318.6
2.5
0.35
141.9
14.8
57.4
40.9
293.2
Vida
23.1
180
40.5
2049
4
0.35
134.8
14
61.8
41.2
358.1
Tyra
15.3
180
33.6
1917.3
4.8
0.28
122.9
13.3
62.5
40.3
318.2
Egan
20.4
181
39
1923.2
3.5
0.38
120.7
16.3
61.3
38.9
414.8
Solano
17.6
180
30.4
1791.3
2.6
0.28
114.9
14
61.9
40
339.9
Soren
13.3
179
35.2
1933.1
3.9
0.29
109.3
15.1
62.8
35.2
375.8
Mean
18.2
180
35.5
1988.8
3.6
0.3
124.1
14.6
61.3
39.4
350
24 plants/ft2
Expresso
24.8
181
36.1
2351.4
2.1
0.34
144.2
14.6
59
40.3
301.4
Vida
20.9
180
39.4
2371
3.4
0.35
136.5
13.9
62
36.3
345.7
Tyra
24.5
179
33.9
2059.9
3.5
0.31
131
13.2
62.3
39.9
296.6
Solano
19.7
180
31.5
1864.3
2.4
0.31
127.7
14.2
62.1
43
344
Egan
20.4
180
39.4
2048.5
2.7
0.33
127.3
16.3
61.6
38.5
446.9
Soren
20.6
179
33.5
2059.9
2.9
0.28
115.9
14.8
63
34.9
392.4
Mean
21.8
180
35.6
2129.7
2.8
0.3
130.4
14.5
61.7
38.8
354.5
32 plants/ft2
Expresso
32.8
180
35.9
2363.1
1.9
0.31
149
14.3
59.1
41.4
297.2
Vida
28.8
179
38.6
2180.6
2.7
0.35
141.3
14.1
61.8
40.7
363.2
Tyra
34
179
33.6
2141.2
2.8
0.31
131.8
13.2
62.6
38.7
305.9
Solano
30.9
179
32.5
1959.5
1.9
0.29
129.3
14
62.5
41.2
354.3
Egan
37.8
180
38.8
2029.7
2.3
0.4
128.9
16
61.8
39.4
439.6
Soren
27.6
178
34.5
2078.6
2.5
0.31
121.3
14.9
63.3
36.2
372.9
Mean
32
179
35.7
2125.4
2.4
0.3
133.6
14.4
61.9
39.6
355.5
40 plants/ft2
Vida
35.3
179
40.1
2251.3
2.6
0.35
144.5
14
62.3
40.2
347.7
Expresso
34.9
180
35.3
2257.1
1.6
0.3
140.1
14.4
59.9
40.5
305.1
Tyra
32.2
179
35.2
2190.8
2.5
0.29
136.8
13.2
62.6
39.4
319.7
Solano
35
180
31.5
2025.2
1.5
0.28
134.3
14.3
62.3
41.4
341
Egan
38.8
180
41.2
2095.4
1.9
0.33
131.6
15.9
61.8
38.8
436.4
Soren
32.3
177
34.6
2102
2.1
0.3
119
15
63.3
35.2
397.3
Mean
34.7
179
36.3
2153.6
2
0.3
134.4
14.5
62
39.3
357.9
Pr>F Variety
0.2221
<.0001
<.0001
<.0001
<.0001
<.0001
<.0001
<.0001
<.0001
<.0001
<.0001
Pr>F Density
<.0001
<.0001
0.2867
0.0001
<.0001
0.3515
<.0001
0.393
0.0101
0.4347
0.7271
Pr>F
0.828
0.4417
0.288
0.3269
0.7763
0.6098
0.2025
0.5841
0.489
0.0676
0.7649
Var X Den
PLNT: stand count, HD: heading date, HT: plant height, No. kernels: number of seeds, PTN: productive tiller number, YLD: yield,
PRO: protein, TWT: test weight, TKW: thousand kernel weight, FN: falling numbers
1 Adjusted to 13% moisture
2 Adjusted to 12% moisture