Project Life Cycle PDF download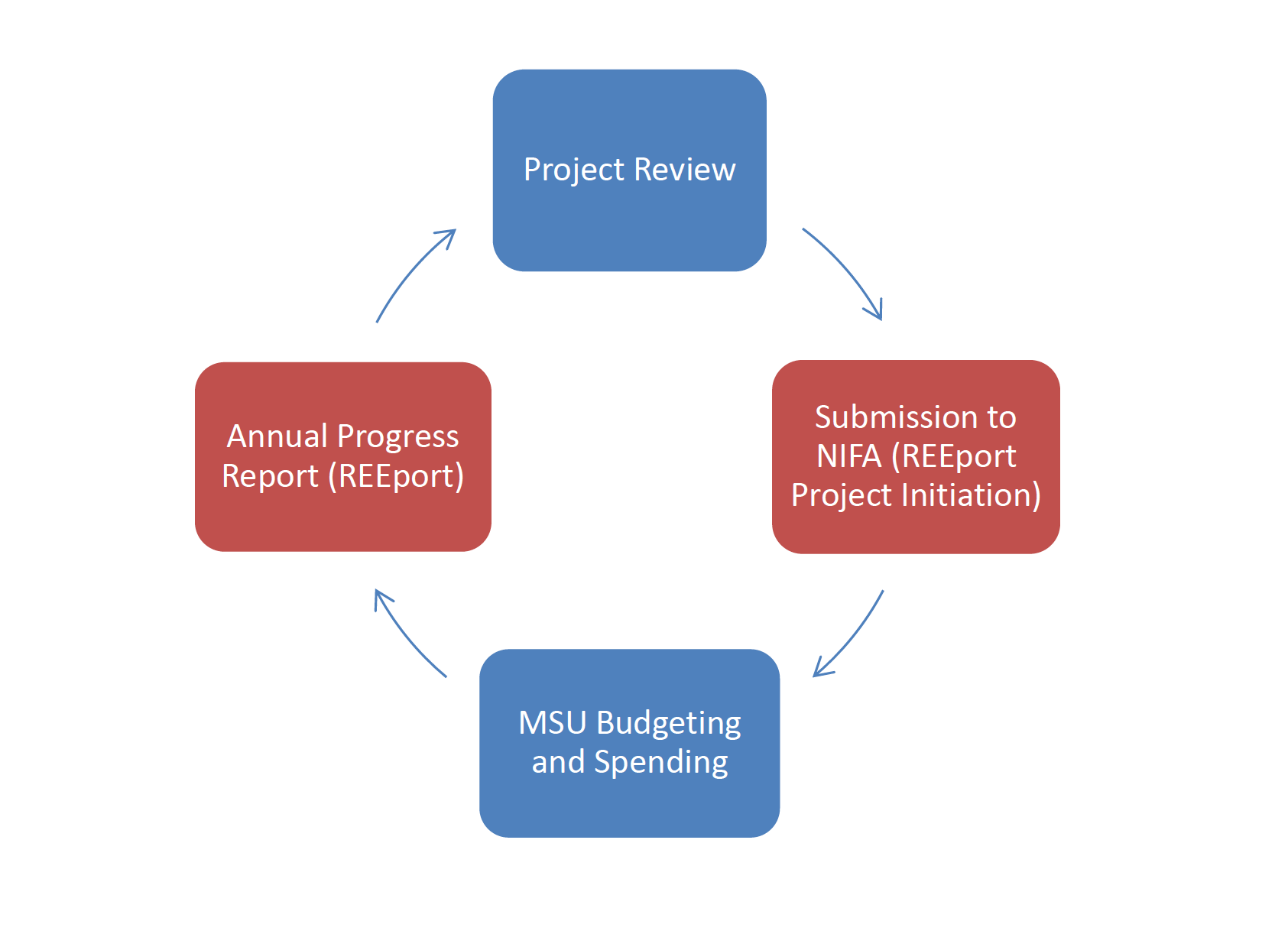 Project Review (Federal Hatch Projects)
All MAES-funded faculty should have an active Hatch project. New faculty will normally submit proposals during their second or third year. This is referred to as "project review." The steps for project review are:
Proposal developed by Project Director (PD) and presented at seminar.
Proposal/seminar reviewed and approved by peer review committee and Department Head.
Proposal reviewed and approved by Dean/Director.
a) Proposal submission to USDA/NIFA
Once a proposal has been approved by the Director, the PD must submit their project information into the NIFA REEport system the following spring by completing the Project Initiation and uploading the project proposal. These forms will be reviewed by the Fiscal Manager and submitted to NIFA. When a PD logs onto REEport, they will be able to see the projects they have that require reports.
b) MSU Budgeting and Spending
Once a project is approved by NIFA, the PD will be notified by the Fiscal Manager with an opening memo. For new projects, index numbers will be assigned by the Fiscal Manager. Budgeting and spending should begin in an assigned index number on opening date of the project (923xxx).
Note: Index numbers are tied to MAES projects just like grants. They can only be used when a project is active and cannot be used for other project expenses.
c) Progress Report
PDs must enter annual progress reports into REEport by November 30 of each year. The Fiscal Manager will review and submit the completed reports to NIFA.
d) Project Renewal
Prior to the project termination date, the Project Review process will be repeated in order to renew the project for an extended period.
e) Termination of a project
If a PD is going to leave MSU or a project will not be extended, the PD must terminate their project(s) in REEport with a final report prior to leaving or at the end of the project period. The index associated with a terminating project will be inactivated.
Federal Multistate Projects
These funds are distributed to participants in regional, multistate projects.
There are two types of multistate projects:
Coordinating Committee and Information Exchange Group: these do not require a Project Initiation in REEport. The Dean's office awards travel money for participation in regional meetings.
Multistate Research Project: these require a Project Initiation in REEport and are to be reported. The PD may receive salary, travel and operations funds for participation
To search for multistate projects, go to NIMSS, located at http://nimss.org.
Instructions to help navigate the site are available upon request. If you need assistance navigating the site to search for projects please contact Darien Gibson in the College of Agriculture at the contact information above.
Other Grant (non-formula funds) in REEport
A NIFA non-formula funded project is a competitive grant that has been awarded to a grantee through the grants.gov application and approval process. Once a non-formula grant has been awarded, the grantee is notified by NIFA that they must use REEport to complete the Project Initiation. Annual progress reports and final reports are due 90 days after the anniversary of the start date of the project.