2022 Research Roundup-December 13, 2022
The 2022 Central Montana Research Roundup is scheduled for December 13 at Judith Basin County Farms, Ltd. Registration and refreshments begins at 9:00 am, and lunch will be served at noon by the Central Montana Cattlewomen! The event will wrap up for the day at 2:20 pm. This event is free and open to the public. Research summaries & presentations include:
How Drought Impacts the Soil Microbiome by Dr. Jed Eberly, CARC Assistant Professor of Agronomy & Microbiology
Using Aerial Imagery to Aid in Drought Management by Simon Fordyce, CARC Research Associate in Cropping Systems
Potential of Annual Forages in Drought by McKenna Volkman, CARC Research Associate in Cropping Systems
Crop Rotations and Drought by Dr. Pat Carr, CARC Superintendent & Associate Professor of Cropping Systems
And guest presentations include:
Weather Outlook for 2023 by Montana Climatology Office, University of Montana
Managing Grasshoppers and Insecticide Resistant Weevils by Dr. Kevin Wanner, MSU Associate Professor of Entomology
Wheat Stem Sawfly IPM Update by Dr. David Weaver, MSU Professor of Cropping Systems & Entomology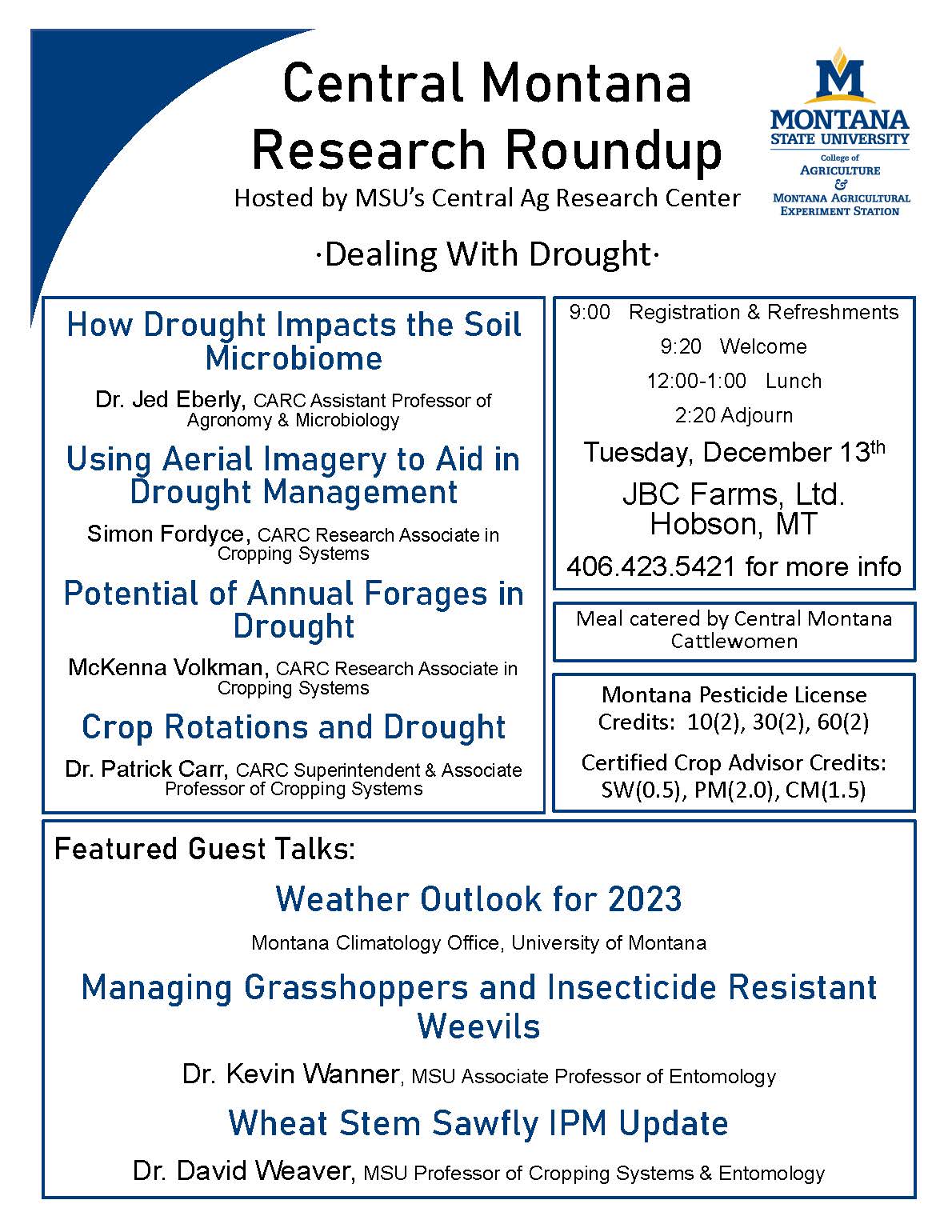 ---
Past year presentation titles are listed below. All presentations are available upon request (various formats).
Research Roundup 2019
Strategies for Diversifying Cropping Systems and Managing Acid Soils in Central Montana
Cultivar Selection in Low pH Soils, Simon Fordyce, Research Associate
Soil Respiration and Cropping System Diversity, Dr. Jed Eberly, Assistant Professor of Agronomy/Soil Microbiology
Breeding for Abiotic Resistance in Barley: Acid, Salt, Drought, & Cold, Dr. Jamie Sherman, Assistant Professor/Barley Breeder
Soil Acidification: Causes, Identification, and Solutions, Dr. Clain Jones, Professor/Extension Soil Fertility Specialist
Soil Acidification in Montana: What Have We Learned?, Dr. Rick Engel, Professor of Soil Nutrient Management and Cycling
Diversifying Rotations: Crop Sequence Choices, Dr. Pat Carr, Superintendent/Associate Professor of Cropping Systems
Research Roundup 2018
Pulses and Oilseed Crops
Cool-Season Pulse & Canola Variety Trial, Simon Fordyce, Research Associate
Microbiology Applications in Dryland Agriculture, Dr. Jed Eberly, Assistant Professor of Agronomy/Soil Microbiology
CARC Oilseed & Cropping Systems Studies, Dr. Pat Carr, Superintendent/Associate Professor of Cropping Systems
Pulse Crop Breeding for Montana, Dr. Kevin McPhee, Professor of Plant Science and Plant Pathology
Pulses in Rotation: 101 and Beyond, Dr. Perry Miller, Professor of Cropping Systems
Canola: An Opportunity Crop in the PNW, Karen Sowers, Extension & Outreach Specialist - Oilseeds WSU
Research Roundup 2017
Alternative Crops Results, Simon Fordyce, Cropping Systems Research Associate
Grain Variety Trial Results & Biological Inoculants, Dr. Jed Eberly, Assistant Professor of Agronomy/Soil Microbiology
Communicating through Social Media, Heather Fryer, Research Associate
Soil Testing and Nutrient Management in and after Dry Years, Dr. Clain Jones, Associate Professor/Extension Soils Specialist
Cropping Systems Research: Present and Future, Dr. Pat Carr, Superintendent/Associate Professor of Cropping Systems