Codling moth degree-day models for Montana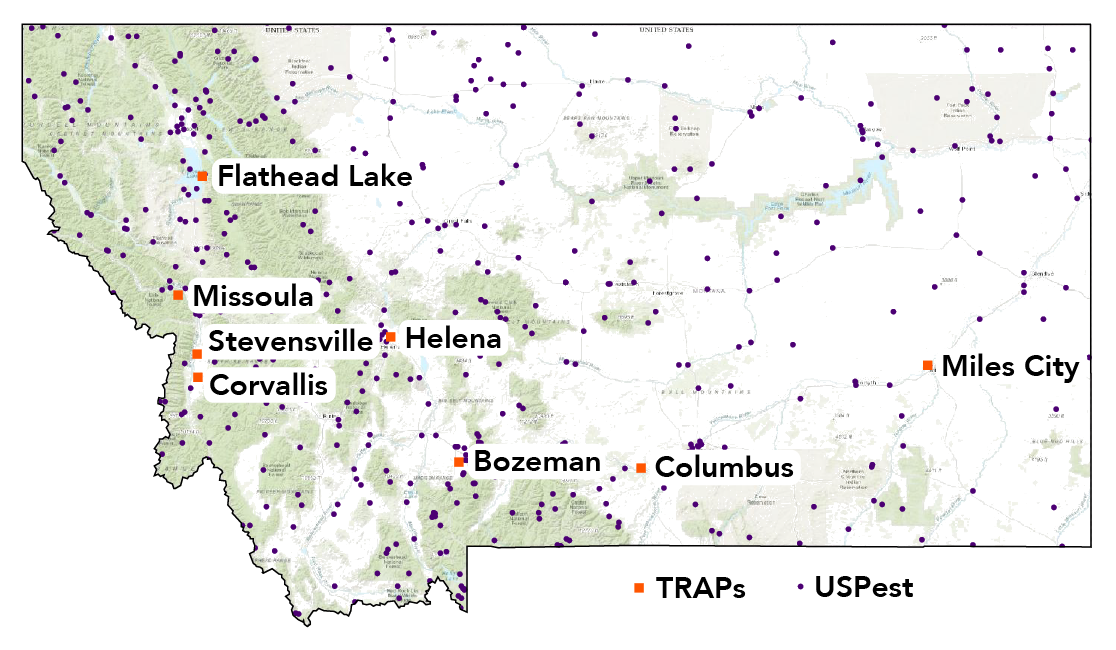 Monitoring tools
Codling moth degree-days (DD) and models: Since insect development is dependent on temperature, applying codling moth controls on the same dates each year may not be very effective. Instead, a unit known as degree-days (DD) is used to track moth development (which occurs between 50°F and 88°F). The online DD models described below perform DD calculations automatically based on temperatures collected from the nearest weather station. The result is a custom DD timeline that can be used along with management recommendations in Guide to Codling Moth Control in Montana Commercial Apple Orchards or Guide to Codling Moth Control in Montana Backyard Apple Orchards (both are coming soon!). Choose the TRAPs model if you live within 10 miles of one of the model's weather stations (see map above) or use the dynamic map on the TRAPs website). Otherwise, use the USPest model. If you don't have biofix, choose the model's "fixed biofix" or "no biofix" option and skip ahead to TRAPs or USPest instructions.
Codling moth biofix is the date when moths first take flight in spring. The number of DD accumulated since biofix is useful for predicting life stages and selecting and scheduling appropriate pest controls. You can obtain biofix by hanging a pheromone trap (below) or contacting your local Extension office for the date. If you don't want to use a trap, both DD models offer an option to generate a timeline without biofix.
Codling moth pheromone traps are used for monitoring moth activity, generally to pinpoint biofix (see above). Pheromone traps are not a control measure. Order your trap(s) (a minimimum of one trap for every 5 contiguous acres of orchard) in March and store the pheromone in your freezer until needed. The orange delta-style trap is a good option from an online retailer like Arbico Organics. When blossoms of your earliest bloom variety are at first pink stage, prepare and hang your trap parallel to prevailing winds in the upper canopy of an apple or pear tree, mid-orchard. Monitor the trap every other day and then daily near the time of full bloom. Record biofix as the date of first moth catch.
TRAPs instructions
Desktop (this version must be used if you will be using your own biofix)
Jump to instructions for TRAPs mobile app
Click your nearest station on the map. In the "Select a Pest" dropdown menu on the right, choose "FRUIT" and either "Codling Moth – Fixed Biofix" (backyard growers) or "Codling Moth – Trap Biofix" (growers using pheromone traps).
If you are using "Trap Biofix," change the start date to your biofix and leave end date as is. For "Fixed Biofix," leave start and end dates untouched. Click the "Submit" button.
Click on any of the checkmarks under the "Action" column to see recommended control measures for that date. We are also creating a Complete Guide to Codling Moth Management in Montana with specific management actions that correlate with the cumulative DD. Check back soon!
Mobile (cannot input your own biofix)
Download app: "Utah TRAPs: Alerts for Pests"
Open app and select your nearest weather station either by zooming out and clicking the point on the map or by selecting the station from the "Select a Station" dropdown.
After selecting a station, tap on the down arrow to the left of the station name and tap the star icon to add to favorites. A gray box appears below with the station name. Tap the square at the right of this gray box to set it as your default station. In the future, the app will open directly to this station.
By default, the "Daily Summary" for weather is shown. Click "Select a Pest" from the icons at the bottom of the screen and choose either "Codling Moth - Fixed Biofix" or "Codling Moth - Trap Biofix" (which uses pheromone trap-based biofix from sites near TRAPs weather stations). Unlike the desktop version of TRAPs, you cannot add a customized biofix date, as biofix is already recorded for your location by WARC staff and
The next screen displays the cumulative degree days and percentages for moth flight and egg hatch, and last, current, and future management actions (if any). Click the > in the top-right of the screen to show the DD and management action timeline for the season. Touch the graph and swipe left to view past data and management actions.
USPest instructions (Desktop only)
Desktop (no mobile app)
Enter your ZIP code or city and state abbreviation and click "search for stations."
Click "map" to the right of the location nearest you.
On the next screen, click the station point on the map nearest your location.
Click the "model" tab.

If no biofix (e.g., backyard growers), select "codling moth no biofix (Jones etal 2008)."
If you have biofix, select "codling moth (Brunner and Hoyt 1987)."

For "start date", enter biofix. Do not change "end date."

Click "output" tab, check "show full table;" scroll down the page to see calendar dates and cumulative degree days (DD cumu) which is the 2nd column from the right.
As you scroll down the table, you may see "events" listed in the last column that will give you some indications for timing sprays.
For more info
Managing Codling Moth in Montana Commercial Orchards
References
[1] Murray, M.S. Using Degree Days to Time Treatments for Insect Pests. Utah State University Extension and Utah Plant Pest Diagnostic Laboratory: IPM-05-08, April 2008.