Discovering the History of Your Heritage Orchard
By Katrina Mendrey and Mary H. Williams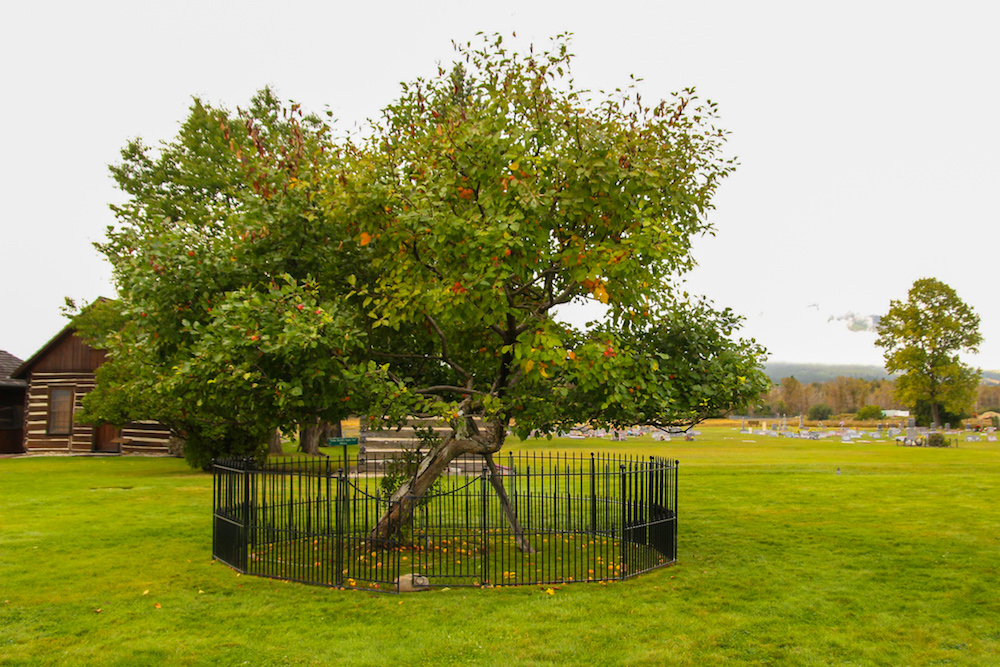 Heritage fruit trees are prized for their fruit and the form they take in the landscape, but often it's the questions they inspire about who planted and maintained them over the years that give modern owners pause. Researching your orchard's past can be challenging. However, your sleuthing can reveal not only when the tree may have been planted and its cultivar, but also a wealth of knowledge about the lives of homesteaders past. The resources that follow will help to guide your search for the history of your orchard and the orchardists that cared for it.
But before you begin, it is important to decide what information you want. Are you interested in knowing how old your tree is? What the cultivar might be? Or do you want a better understanding of who planted the trees and why? Defining your objective will help you focus your research.
Start With the Basics
Before running to the archives, you'll first want to gather some key observations from your orchard, property, neighborhood, and community.
Examine Your Trees
Often, trees themselves offer clues about when they were planted. This can lead you to what cultivar it might be and, eventually, who planted it. Conversely, identifying a tree's cultivar may suggest its planting date based on the year the cultivar was introduced into the area.
Look at Tree Form and Size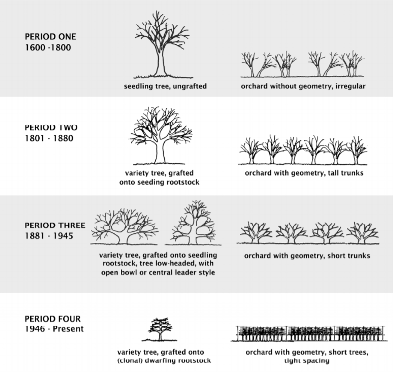 Diagram of changes in tree and orchard form over four periods of American apple production history (S. Dolan).
Grafted trees became popular in the 1800s, but it wasn't until late in the century that orchards took the form we now think of as "heritage trees." These late 19th century trees branch close to the ground, assuming an "open vase" form (Dolan, 2009). Although many trees were grafted prior to the late 1800s, their branches began farther up their trunks (Dolan, 2009). Also, trees in this earlier period often were grafted onto seedling rootstock, resulting in rather large trees. Dwarfing rootstock did not become popular until much later in the 20th century.
Why not just get a core sample to determine a tree's age? Many apple trees died to the ground from livestock activity, wildlife grazing or cold injury, or they might have multiple stems due to damage to the leader. Because of this, techniques like core sampling are not reliable ways to determine original planting dates.
How Are the Trees Planted?
Trees planted in perfect rows spaced 20-30 feet evenly apart were often part of a larger orchard. According to early news accounts and contemporary memoirs, commercial orchard production in Montana began around 1870 with major plantings in the Bitterroot, Missoula, Clark's Fork, Yellowstone, Ruby, Tobacco and Flathead Valleys. [D.C. Bass, "First Commercial Orchard in the Bitter Root," in Western News, 5/1910]. Smaller plantings near buildings or elegantly placed in fields were often homestead plantings for household purposes. Many such plantings occurred in the early to mid-1860s as settlers moved into central and western Montana. [Montana Post, 8/18/1866, 11/27/1868, 2/12/1869; New North West, 11/10/1876; Rocky Mountain Husbandman, 5/2/1878; W.B. Harlan, "Pioneer Fruit Growers of the Bitter Root," in Western News, 5/1910].
Identify the Fruit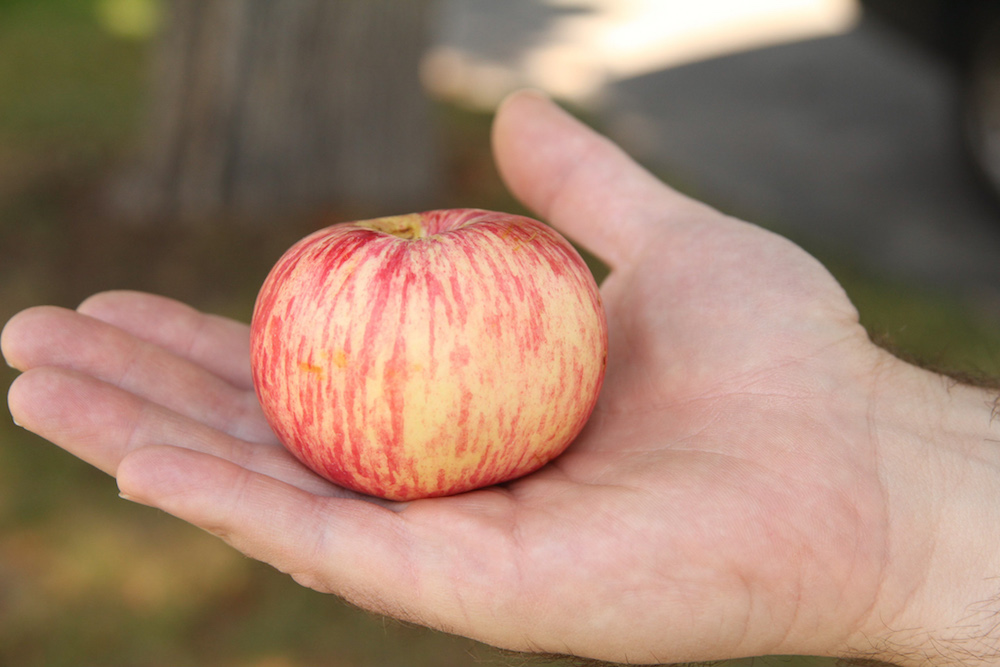 A colorful Duchess of Oldenburg apple.
If you can! Identifying fruit cultivars is notoriously difficult. Climate, tree age, and management all influence important characteristics of fruit, making identification a challenge. Genetic identification of fruit – the only true means of identifying an apple cultivar – is costly and requires a known standard sample for comparison. Approximately 100 different cultivars of apples were planted in Montana between 1865 and 1902, which can make the task of identification daunting. However, a relatively limited number survived to make up today's heritage orchards.
The following are some of the most common cultivars found in Montana today:
Wealthy
Duchess of Oldenburg
Wolf River
McIntosh
Yellow Transparent
Transcendent Crabapple
Alexander
Fameuse
Northwest Greening
Hibernal
Patten Greening
Whitney Crab
Haralson
Some trees are "seedlings," meaning they were planted from seeds and are not grafted cultivars. These trees are genetically unique. They may have been planted by homesteaders from seeds brought from their original home, or they could be wild plantings by natural accident. Such trees may be recognized by their odd location in the landscape (i.e. along roads, fences and ditches), their unruly form, and their lack of a graft scar. For more information on fruit identification, visit the Montana Heritage Fruit Identification Guide or www.fruitid.com.
Heritage trees frame an old structure at the Gold Creek Homestead.
Existing Structures
Even if the original homestead is not intact, outbuildings or barns may still exist. Building dates may provide information about when the property was settled and its trees planted.
Ask Your Neighbors
Montana's history is relatively recent. Families in your neighborhood may have lived there for generations. They might even know your property's previous tenants, what they did on the property, or when the orchard was planted. Even if the information is secondhand from a grandchild or "second-cousin-twice-removed," it can offer a place to start!
Understand Local History and How it Relates to Your Property
Putting things into context can shed light on when events occurred and why. For example, agricultural settlement (homesteading) in Montana resulted from the influx of gold prospectors during the 1860s. So, it's unlikely your tree could be older than that! When was your county and town first settled? Who came there and why? Was this an area with larger apple plantings or simply a location where homesteaders did their best to plant apple trees to supply their households? Once you start asking more complicated and specific questions, you'll be ready to move onto the next section.
Expanding the Search: Public Records, Maps, and Local Artifacts
Identifying previous owners and other events that involved your property or your community can provide additional clues as to the history of your heritage trees. The following are some great public resources for tracking down more information using the leads you gathered from the methods above.
This site provides land conveyance records including surveys, patents and field notes. It can be used to identify the names of your property's original homesteaders, their origins, date of arrival, and if you're really lucky, the crops or trees they planted.
County Clerk and Recorder's Office
Your county maintains extensive land and legal records that provide owner's names, dates of ownership, and civil (or criminal) actions involving the property and previous owners.
Old Maps
Old maps may provide clues about who settled an area and when. Landscape features such as ditches, creeks, canyons, and mountains were often named for nearby settlers or influential landowners. These place names may indicate who previous owners were or when the area was settled (and therefore when your trees may have been planted). Local and state museums, county clerk and surveyor offices, and university libraries all maintain old map collections.
Local and State Museums, and University Archives
These historical repositories maintain old records, letters, photographs and personal items from past residents. The histories of these items can also help provide important context for why your trees were planted and when.
Newspapers
Newspapers have been published in Montana since the early 1860s. News articles, letters to the editor, and advertisements from local and state or territorial periodicals offer clues as to who was purchasing land, planting trees, and selling fruit. Many local museums and libraries retain copies (paper or microfilm) of Montana's papers, as do the Montana Historical Society and Montana's university archives. The websites Newspapers.com and Chroniclingamerica.loc.gov also provide online access to many of Montana's newspapers.
Genealogical Sources
Once you've identified the family names involved with your property, you may be able to access additional information through various genealogical sources. Many counties have genealogical societies that can be contacted through a local museum or the LDS church. Numerous websites, such as Ancestry.com and FamilySearch.org, provide access to extensive public document collections and can provide a means of contacting others engaged in related research.
This collection of news items, homestead brochures, and Montana Horticultural Society proceedings can offer context for Montana's rich history of fruit production.