Brown Marmorated Stink Bug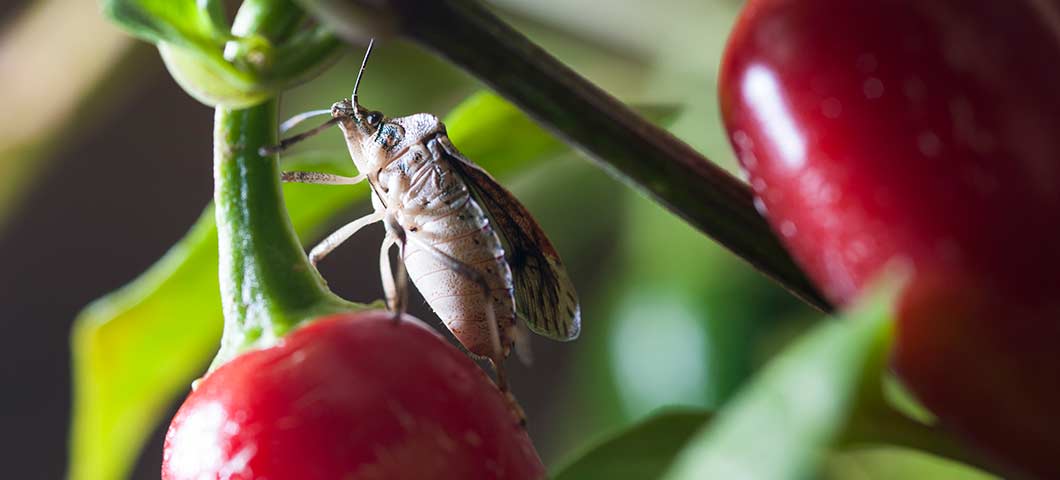 Brown marmorated stink bug feeding on jalapeño plant. Credit: "Brown Marmorated Stink Bug" by Oregon State University, licensed under CC BY-SA 2.0
Overview
The brown marmorated stink bug (BSMB), Halyomorpha halys, is an invasive Asian insect pest that arrived in the U.S. in the mid-1990s and rapidly spread to at least 46 states (Stop BSMB 2020). BSMB nymphs and adults are destructive to a wide range of vegetables, fruit trees, field crops, ornamental plants, and native vegetation (Leskey et al. 2012). With climate change, the pest is expanding its range northward into Canada and producing more generations in one season due to milder winters (Kistner 2017). BSMB has become a notable issue for apple orchards in the mid-Atlantic and Pacific Northwest from mid- to late-season. However, fruit damage from this pest may be under-reported as it mimics certain nutrient deficiency disorders including cork spot and bitter pit (Brown 2003).
Life Stages
MSU-WARC Monitoring Updates
WARC has been monitoring for BMSB in orchards across Montana since 2019. Between 2019 and 2021, traps have been placed in orchards in Ravalli, Missoula, Carbon, Gallatin, Lewis and Clark, Sweet Grass and Flathead counties. WARC orchard monitoring efforts have not revealed the presence of BMSB in these locations. However, in January 2021, an adult male was found in a private residence in Billings, MT. Subsequently, a BMSB was found in a car in Flathead County (May 2021) and in a private residence in Ravalli County (March 2022).
Resources
USU Brown Marmorated Stink Bug Fact Sheet
References
Brown, M. W. 2003. Characterization of stink bug (Heteroptera: Pentatomidae) damage to mid- and late-season apples. J. Agric. Urban Entomol. 20: 193-202.
Kistner, E. J. 2017. Climate Change Impacts on the Potential Distribution and Abundance of the Brown Marmorated Stink Bug (Hemiptera: Pentatomidae) With Special Reference to North America and Europe. Environmental Entomology 46.6: 1212-224.
Leskey et al. 2012. Pest Status of the Brown Marmorated Stink Bug, Halyomorpha Halys in the USA. Outlooks on Pest Management 23.5: 218-26.
Stop BSMB. 2020. Management of brown marmorated stink bug in US specialty crops. http://www.stopbmsb.org.
Photo Credits
1 "Newly-hatched brown marmorated stink bugs (BMSB)" by Oregon State University is licensed under CC BY-SA 2.0.
2 "Nymph of Brown Marmorated Stink Bug" by fotopamas is licensed under CC BY 2.0.
3 "Brown Marmorated Stink Bug" by treegrow is licensed under CC BY 2.0