Montana Strawberry Initiative
Exploration of Annual Strawberry Production in Montana
in collaboration with Seth Swanson, Missoula County Extension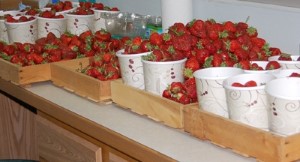 Strawberries are a high value specialty crop with varieties hardy enough to grow in Montana. The high labor demands and pest management limit statewide production. Annual high tunnel (hoop house) production may reduce these issues and add diversity and profits to high tunnels.
This study, led by Seth Swanson, Missoula County Horticulture Extension Agent, investigated the efficacy of annual high tunnel production of strawberries in Montana to determine if this is a viable production strategy. The trials were established at six Regional producer/research sites located in Missoula County, the Bitterroot Valley, and Butte in 2015. Three cold hardy June-bearing varieties were trialed. They are Cavendish, Honeoye, and Jewel.
A perennial matted row system and an outdoor annual system were planted for comparison. Dormant crowns were planted the second week of May to establish matted row systems (single row @ 18" spacing), followed by planting of dormant crowns the second week of August to establish the annual systems (2 rows at 12" spacing).
Data were collected at Harvest to determine total yield as well as quality measurements of marketable yield, Brix, and average berry size for each of the varieties in each production system at each site. This information will help to determine not only the viability of annual production of strawberries, but also the best strategy for optimal management in order to maintain peak production from your high tunnel.