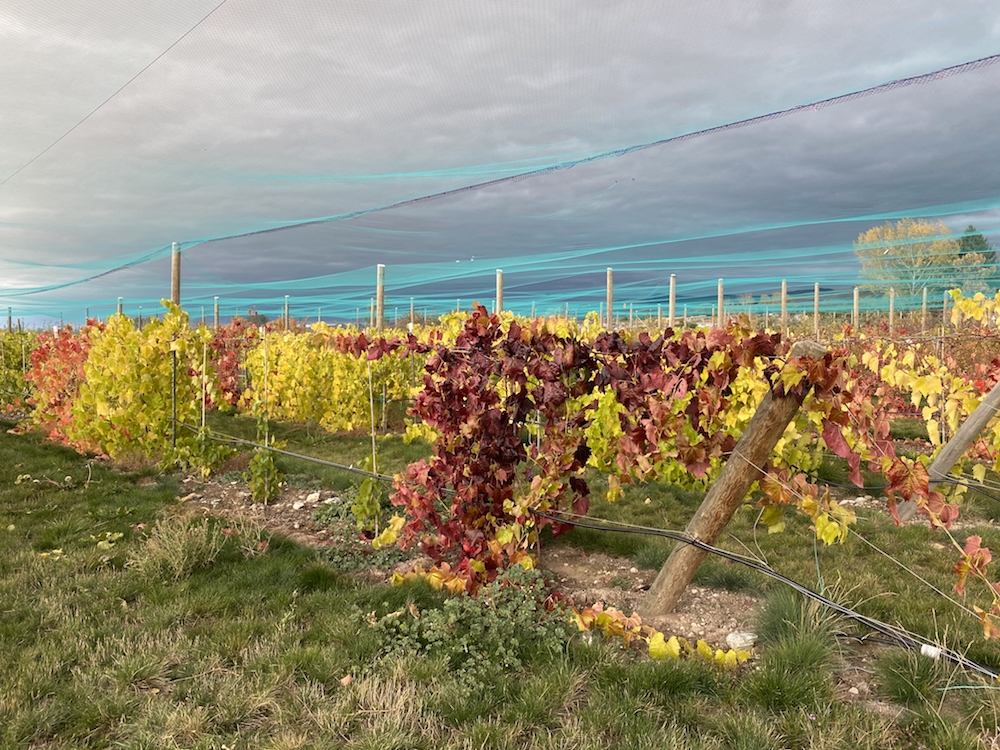 Fall colors make it especially easy to see the difference among varieties in WARC's research vineyard (Baltica proving the most flamboyant of them all!).
Learning more about your chosen area's terrain, climate, soil, and water needs will help you make an informed decision about which cultivars will best succeed in your vineyard. If you're in a site with cooler growing seasons, select earlier ripening varieties. If you're in a site with colder winter lows, select a more cold-hardy variety. Most cold-hardy varieties you'll find these days are "own rooted" vines, so if they're killed back by a very cold temperature, they will regrow within a season from root suckers.
There are many cold-hardy varieties to choose from, but not all of them are ideal for Montana's various growing zones and mesoclimates. Based on a recent survey of Montana vineyards, there are over 16,000 grape vines planted in the state, nearly 90% of which are red wine varieties. The most popular red grapes are Marquette (52% of red grape vines), with Frontenac, Marchal Foch, and Petite Pearl all tied for a distant second at around 10% of red grape vines. For white wine grapes, no variety dominates the current plantings. Frontenac Gris, St. Croix, and Prairie Star are slightly more commonly planted, with each representing 20-25% of the white wine grape vines planted. Louise Swenson, La Crescent, Brianna, St. Pepin, Swenson Red, and Frontenac Blanc have also been planted in Montana with varying degrees of success. Itasca is a new white grape variety generating interest for its cold-hardiness, and it's becoming notably more popular in the state.
For detailed descriptions and more comprehensive lists of cold-hardy grape cultivars, you can reference the following resources: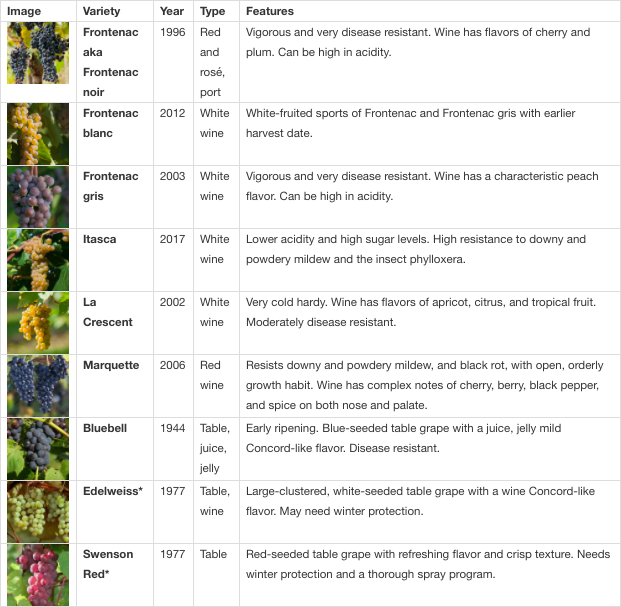 Popular cold-hardy varieties created through University of Minnesota's grape breeding program (linked above).
If you need help sourcing vines for purchase, check out the University of Minnesota's list of retail and wholesale nurseries in the U.S., all of whom carry a variety of cold-hardy grape cultivars.
IMPORTANT NOTE: Be sure to order your vines the season before you plan to plant, which will help ensure you receive the varieties and numbers you need at planting. Most nurseries will know the following season's inventory by mid-summer.