Cider Cultivars for the Intermountain West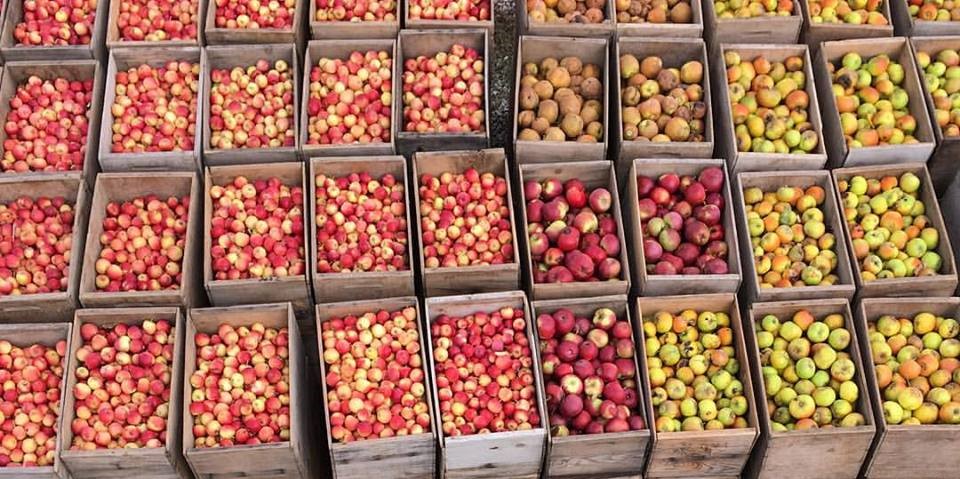 Hard cider apples harvested and ready to press at Billingsley Orchard, Stevensville, MT. Photo credit: Michael Billingsley, Western Cider Co.
Research Importance
Cider apples have traditionally been grown in regions with a milder and moister climate as well as different pest and disease pressure then the arid and cold Intermountain West. Growers looking to cultivate apples with the desireable traits of a quality cider apple need assistance in understanding how traditional cider apples will grow here and how to manage them for quality fruit.
Research Summary
Photos: 1) 'Golden Russet' apples grown in the Bitterroot Valley (Photo credit Billingsley); 2) Scionwood used to propagate cider apple cultivars for on station trial (Photo credit: Billingsley); 3) Fire blight developing in the spring on a 'Kingston Black' apple tree. Fire blight is one of the greatest challenges facing cider apple growers in the region.
With input from growers and cider makers, the Western Ag Research Center (WARC) has initiated several trial cider cultivar plantings to evaluate apples for cider production in the Intermountain West. Between 2016 and 2021, the following cultivars have been planted and subsequently evaluated for production in Montana: 'Ashmead's Kernel', 'Binet Rouge', 'Bulmer's Norman', 'Chisel Jersey', 'Dabinett', 'Hewe's Virginia Crab', 'Harrison', 'Golden Russet', 'Major', 'Marie Mendard', 'Muscadette de Dieppe', and 'Wickson'. In 2021, 'Chisel Jersey', 'Dabinett', 'Ashmead's Kernel' and 'Golden Russet' were all replaced with 'Bedan', 'Hewe's Virginia Crab', and 'Domaines' due to the complete loss of these trees in October 2020's cold snap (see details below). Once these new cultivars reach production, they will similarly be evaluated alongside others in our trials. A summary of our current research can be found in this document, Summary of Cider Cultivar Evaluations 2022. For more information on other cultivars commonly grown in the Intermountain West, see WARC's summary of a grower survey conducted in 2019, summarized below.
We also work closely with growers to record and report any significant findings from their experience growing cider apples in Montana with new and established growers throughout the region. For example, inOctober 2020, many orchards across Montana experienced a sudden drop in temperatures and several cider cultivars were severely damaged or lost. A summary of initial findings from this event can be found on our webpage Summary of 2020 Cold Injury.
In addition to cultivar trials at our research station, we conducted a grower survey of current cider apple cultivars grown around the Intermountain West. The survey was conducted in two parts from March 2018 to November 2019. Survey One collected information on what was planted and prepared orchards for Survey Two with resources to take notes and assess their cultivars throughout one growing season. Survey Two focused on rating cultivars for vigor, cold hardiness, fire blight susceptibility as young and mature trees, biennialism, bloom time and length, harvest time and ease, and yields. Both surveys were sent to 51 orchards or cideries thought to also grow cider apples in a geographic area defined as east of the Cascades, USDA cold hardiness Zones 6 or below and above 1,000 feet. Of those sent the survey, 23 orchards provided information on orchard management challenges, the cultivars they grew, the age of these trees and which if any trees they have discontinued for various reasons. Sixteen orchards participated in Survey Two, providing cultivar-specific ratings. A full report of the results titled Performance of Cider Apple Cultivars in the Intermountain West is available online or by request. The grower recordkeeping book associated with the survey summary is a valuable resource for growers evaluating new cultivars in their orchard and keeping records to inform future management decisions.
If you currently grow cider apples and are interested in participating in the ongoing cultivar evaluation project please contact Zach Miller at zachariah.miller@montana.edu for more information on how you can contribute.
Related Resources, Publications, and News
While cider cultivar evaluations currently do not exist for locations with similar climates to the cold arid West, similar studies have published results on cider apples grown in modern systems.
University of Saskatchewan Breeding of Grapes and Apples with Emphasis on Juice Products and Rootstocks
Michigan State University Apple Cultivars for Hard Cider Production in Michigan
WANTED: The Bitterroots Bitterest Apple, Ravalli Republic, September 26, 2018